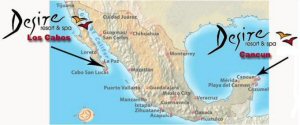 Welcome you to the lifestlyes and swingers vacation of the couples only adult Desire Resorts & Spas, both are all-inclusive resorts which caterers to professional and playful adults. Desire provides a no pressure environment for open-minded adults. From newbies to couples on the soft side to those that have been fully around the block, Desire offers a high class swinger vacation with opportunities to explore whatever you are searching for, within your comfort level.

You will enjoy a sense of freedom like no other on Earth! Renew your spirit, soak up the sun, have fun and let go, indulge and be the person you have always wanted to be. The Resort is open only to Couples for their lifestyles pleasures. Along with a selection of restaurants, lounges, gym and spa, you will find a wide variety of activities, entertainments, land and water sports to enjoy - this is a quality swinger vacation you will remember forever.
Desire Cruises

If you are a couple looking for an alternative swinger vacation, we suggest you experience going on our lifestyle couples cruises .

These Swinger Event Cruises are total ship takeovers, so everyone on board is open-minded and ready to have some fun. Whether youíre looking for adventure, non-stop action, or just kicking back and relaxing on land or at sea.

Lifestyle Couples Cruises has the perfect Luxury adventure thatís sure to satisfy your travel thirst.

We will supply you with a slew of new and exciting cosmopolitan experiences along the way. Click for details.

Desire Pearl Riviera Maya a couples only clothing optional sanctuary in Puerto Morelos in the famous Riviera Maya, invites you to discover a world of deliciously sensual and lifestyle couples experiences. A exclusively paradise for couples only, this is the right place where you can renew the meaning of passion and make your desires come true, forget inhibitions and enjoy lifestyle adventures that go beyond your senses and inhibitions.

Desire Pearl Resort & Spa Riviera Maya will surround you with the most sensual and adventurous, adult oriented activities and entertainment.

The original Desire Resort all inclusive and for only couples, is located on the Bay of Petempich on the Riviera Maya is just 20 minutes from the hustle and bustle of Cancun yet secluded and private.



With its soft, white sandy beach and its perfectly conceived adult amenities, it is definitely the ultimate couples only clothing optional all inclusive resort in the Cancun area.
An exciting, deliciously erotic Lifestyles Resort adventure is now ready and waiting especially for you at the exclusive All-Inclusive Desire Resort. Set on the exquisite white sand beach of Mexico, many with ocean view, blend into the lush, tropical gardens of the couples only escape from routine. On the land, you will find yourself surrounded by swinging coconut palms and lifestyle jungle plants. A sublime hideaway for couples, set on an exquisite white sand beach, a sun-drenched sweep of clear sparkling ocean - perfect for your swinger vacation.